Frankfurt
Bye bye! Our A330 heads back to Canada leaving us to wait another 4 hours in Frankfurt.
Over Frankfurt on our way to Amsterdam
Final approach to Amsterdam-no windmills in sight
Amsterdam
Amsterdam from our hotel
An evening stroll along a canal near Centraal Station
Amsterdam at night
Leiden-on our way to the wedding
Our friend, Leigh-Anne, came to meet us for a coffee before the wedding.
A canal in Leiden
Another windmill in Leiden
Yet another windmill
Pieterskerk is set up for the wedding
Reception before the wedding
The Pieterskerk is a late-Gothic church in Leiden dedicated to Saint Peter. In around 1100 the site held the county chapel of the counts of Holland, rebuilt in 1121 - the present building took approximately 180 years to build, starting in 1390. The building was deconsecrated in 1975 and is managed since then by a foundation and rented for a wide variety of events.
The organ was built in 1642.
Edgar, groom # 1 and his mother make their way down the aisle to the Trumpet Voluntary.
Still single
Edgar and Foppe, married at last
Signing the register
Champagne and cake to seal the deal. Move your cursor over the photo for a close up of the cake. It tasted as good as it looked.
The happy couple
Parents
First dance
Columbian salsa music started the party.
The speeches before dinner
Allan, Ian, Edgar and Nicole
Another canal in Leiden
Back to Amsterdam
Same canal; different view
One of our favourite bars, the Barderij
Hungry swan
Allan on his bike
Ian with his bike
Begijnhof
The oldest house in Amsterdam; one of only 2 timber houses in the city.
Allan
Ian
The Amstel River
Ian on a bridge over the Amstel
The Magere Brug (the thin bridge)
Amstel River
Allan in the Jordaan
Our bikes: Fire-starter and Amor
Houses in the Jordaan
Crossing a bridge in Jordaan.
The crest of Amsterdam
A street in the Jordaan
Old and new architecture
Prinsengracht
Canal cruise boat along the Prinsengracht
Centraal Station
Zeedijk
Happy Hour at Arc with the newlyweds.
Rijsttafel in an Indonesian restaurant
Good luck remembering where you parked your bike.
Another bridge, another canal
This, unfortunately, was not our hotel.
A different view of the same hotel
Allan on his bike
The Queen's house-Koninklijk Paleis
Houses in the Red Light district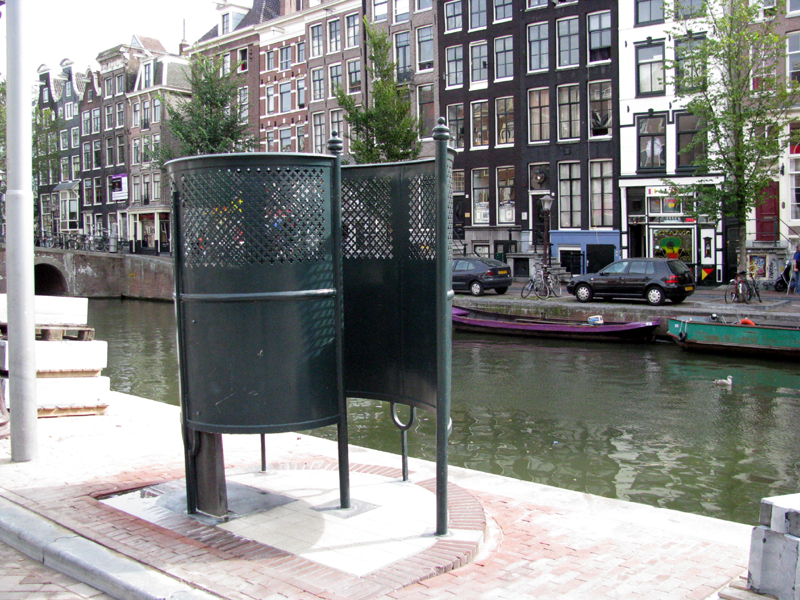 The men's room. Would you believe a public urinal?!
A canal side cafe in the Red Light district
Bike-riding along Zeedijk
A KLM B737 painted in retro livery to mark their 90th anniversary.
London, England
Flying over London-St. Paul's Cathedral
The Tower of London and the Tower Bridge from the air
Westminster Abbey, the Palace of Westminster and Big Ben
Buckingham Palace
Kensington Palace
Arriving at Heathrow
Other Travels
Click here to go back to our Home Page